Selected News
Securing Your Business with Access Control During the COVID-19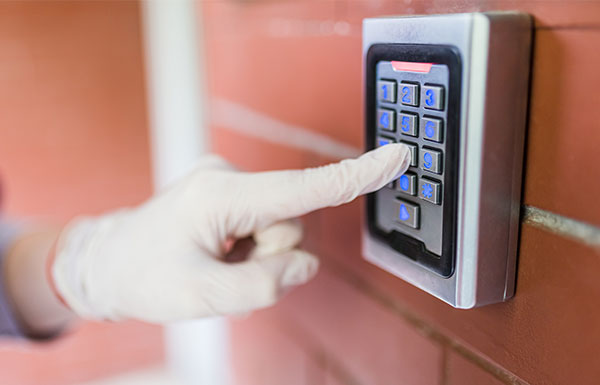 In this age of COVID-19 more and more businesses face immense security challenges than before. Many businesses have had to face the problem of limiting contact with people, while other businesses have had a rise and steady influx of customers and business demands. Securing your business using smart access control during the time of this pandemic we will help you make your business and buildings more secure while you continue working through the COVID-19 pandemic, now and into the future.
1. Providing hands-free usability:
The government and health agencies have laid down stringent protocols of social distancing to curb the spread of COVID-19, by limiting the items we touch in public and around our workspace. Using the hands-free access control tool, you can get into your business without touching keypads or cards.
• The access system can be programmed to work via an app installed on your smartphone. Using near field communications to unlock doors of your home or business as you near them, which minimizes the touching the handles or knobs.
• Using your phone or voice commands and voice recognition to allow access.
2. Remotely lock/unlock and monitor security systems:
With the use of intelligent access control systems such as automatic door locks you can unlock or lock your building doors from anywhere at any time. This is also useful in case employees have forgotten their access credentials. Or when a delivery has arrived while you are away and returning to the office is almost impossible.
3. Remote access and surveillance:
This allows your CCTV, alarm response, and access control system to be merged to work as one. This reinforces the entire security system by allowing all individual systems to interact and verify security threats. You can also access and control the system remotely. You can personally monitor what is going on and provide supervision; the security feed can also be shared via a secured network easily with other security services such our mobile patrol or with the local fire department or police headquarters.
The access control system proves to be one of the most successful methods of reducing physical contact with objects and people in the business. When combined with CCTV surveillance systems and alarm response system it evolves into an extremely strong and impenetrable security system. You will always be alerted of access activities, so you will know exactly who, why, and when someone was at your building.
Sentry Security we have had a steady demand and increase in security services requirements from our previous customers as well as from new clients in St Louis Metropolitan area. Our officers and staff are working to their maximum capacity. To reduce physical contact while picking up checks on paydays we have introduced a zero contact system for officers and staff. We have also made sure hand sanitizers and gloves are available on-demand to all employees. New customized masks have been purchased bearing our Sentry Security logo. These masks have been distributed to all our staff and on-field officers.
Our officers are complying with instructions of wearing masks and maintain proper hygiene at all times on the job. We ensure our customers that we have taken the situation very seriously and have provided our officers with all the assistance they need to continue their jobs smoothly and efficiently.
Protecting our customer's businesses is our priority. We provide industry-leading security services. If you have any doubts, confusion, or questions about how to increase your business's security, give us a call on our toll-free number today.