Roving Patrol
Why choosing a roving patrol security officer might be the best solution for your security needs?
Mobile patrols are highly visible and can travel throughout your property quickly and efficiently, the use of these patrols not only act as a deterrence for wrongful behavior it also gives your customers, residence and employees peace of mind knowing that someone is always close by.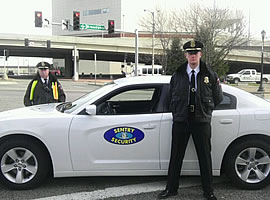 Since these patrols are always on the move it removes the predictability of having a complacent security guard in an area of low activity. Roving patrols are always on the move so security officers are more alert and trained to look for any unauthorized activities or changes to your property, so they can be addressed properly. This is an often overlooked benefit that allows you to address unpredictable issues that you cannot control like; weather which can cause debris to obstruct an area, fire or water that may occur during hours when no one is awake or in the area, accidents from outside or inside your property, and breaches in fencing or other secure areas.
Quick response times, since our roving patrols are already in a given geographical area, they can respond to alarms or concerns quickly no matter what time it is. Our security officers are trained to identify issues and can also remain at the scene until the proper personnel arrives.
GPS Tracking ensures the quality and verification of the services that are being provided. We maintain continuous track of or mobile security patrols allowing for a detailed timeline that can be used with your existing security to help you maintain a detailed view of all events that may take place on your property.
Efficiency is probably one of the best reasons to select a roving patrol officer for your security needs. Since our patrols are always on the move, we can often combine their services with other locations in a geographical area which helps reduce your security costs
Contact us today for a complimentary security evaluation.