Selected News
Coronavirus Update: Gearing Your Security System to Bolster Business Policies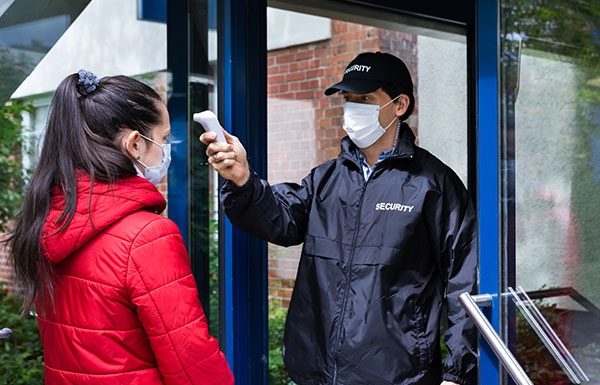 During this pandemic of the Coronavirus Covid-19, businesses and organizations are forced to take countermeasures and responses regarding operational decisions. If your business or organization has started to prepare, and deal with changes in work or patron patterns, you should consider using your security systems to reinforce preventive measures. Your organization should ensure threat mitigation policies are reflected in your security systems.
Here are a few suggestions from Sentry Security which will help put your existing security systems to good use:
1. Audit current access privileges:
It is very important to deactivate or, if necessary, suspend individual access control cards and rights of the employees who are currently working from remote locations such as their homes. This lockdown that has been issued due to the Coronavirus Covid-19 pandemic can be an opportunity for you to audit your access privileges, making sure only the right people have access to the building.
2. Visitor screening:
This system when integrated with the current access control system, CCTV monitoring, and alarm notification system, will become an ever more powerful method for mitigating health, safety, and security risks for you,your property, and employees. The introduction of a visitor screening system for all individuals who are accessing your property will benefit your business or organization during and after the pandemic. The visitor screening will also act as a simple line of defense providing useful information on individuals accessing your property during this pandemic. Here are a few questions that can be asked as part of an additional screening approach at visitor screening kiosks:
• Are you experiencing any symptoms such as a fever, cough, and/or breathing difficulties?
• Have you recently traveled to and returned from China, Italy, Japan, South Korea, or other countries with confirmed cases of the Covid-19 Coronavirus?
• Do you suspect having close contact with anyone who has a confirmed or suspected case of Coronavirus?
3. Changing alarm timings:
With new schedules and updated business hours,it is important to revisit and change or adjust your previous alarm arming and unarming schedules. This will ensure that there will not be any false alarms set off during the new rescheduled business hours, preventing conflicts and confusion with the security staff and agencies.
Like many other essential service companies in St Louis Metropolitan area, Sentry Security has had an influx of clientele. The work and responsibilities of our staff and officers have increased considerably. We have therefore introduced no contact systems and paper checks on paydays for officers. We have also distributed hand sanitizers and gloves for all who request them and provided all our office employees and on-field officers with masks bearing the Sentry Security logo.
While maintaining proper social distancing amongst our daily essential workers, we have ensured our offices get thoroughly cleaned daily and deep cleaned and sanitized once a week. For customers requesting our officers to wear masks at all times,letting our clients know that they will follow strict health, safety, and hygiene protocols. We have ensured all our officer's questions and concerns regarding the current pandemic and its consequences have been answered fully, making them feel both comfortable and reassured.
Call us today if your current security systems lack the adaptability of the above suggestions. We offer security and safety systems packages that cover all the main areas of building security, from surveillance to alarm, evacuation, access control, and entrance/exit management in St Louis Metropolitan area.